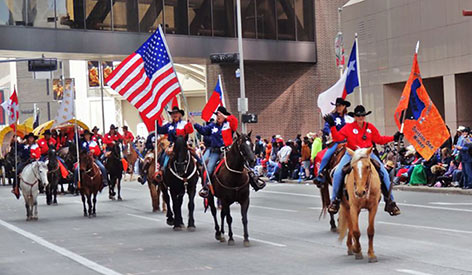 The 2016 Houston Rodeo Parade will feature the usual cast of cowboys, horses, marching bands, more cowboys, more horses, floats, and Houston celebrities. Houstonians and visiting rodeo enthusiasts flock to downtown Houston every year for this famous event, which features one of the largest collections of equine enthusiasts west of the Mississippi River.
Truly a spectacle, the festivities start off on Saturday, Feb 27, 2016 shortly after 9am when the Conoco Phillips Rodeo run, which will follow the parade route, begins. This year, which marks the 26th anniversary of the race, an estimated 15,000 runners, walkers, and wheelchair participants will take part in either the 5k or the 10k version, and there is also a costume contest. All proceeds benefit the Houston Live Stock Show and Rodeo Educational Fund, which should break the four million dollar mark for total proceeds over the race's history.
When the dust settles from the race, the parade will immediately begin. This year's Grand Marshal is Staff Sergeant Ty M. Carter of the United States Army. Staff Sergeant Carter received the Medal Honor for Gallantry for his service in Afghanistan. In 2009, Staff Sergeant Carter was involved in the Battle of Kamdesh, where he risked his life countless times to supply his unit with equipment and medical care. Past Grand Marshalls have included: Texas A&M head football coach Kevin Sumlin, Houston Texans players Andre Johnson and J.J. Watt, and country musician, Clay Walker.
Every year, since 1938, there has been Houston Rodeo parade. The streets fill up quickly, and early, with spectators hoping to catch a glimpse of festive floats, gigantic marching bands, and a seemingly never-ending stream of horses and riders. Many of the horses and their riders come hundreds of miles to take part in the parade. The University of Houston is always well represented during the parade as tradition dictates that prominent university members take part by performing music, manning floats, or playing a significant role in parade organization.
Houston Rodeo Events