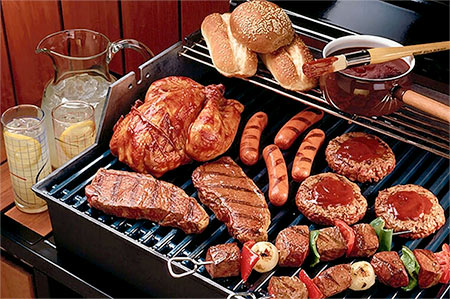 For many, Texas and Barbeque are synonymous terms. 2016's Houston Livestock Show and Rodeo is also home to one of the biggest BBQ events in the world, so big in fact, that it has earned the moniker, "World's Championship Bar-B-Que."
For three solid days, teams of pit masters will apply their culinary art to pork, beef, and chicken at Reliant Park in Houston. There are numerous contests including cleanest pit, best decorated, and most colorful team. Several hundred thousand people are expected to visit this year's event, which means they are going to have to have a lot of sauce on hand, and a mountain of wet wipes.
2016 marks the 42nd edition of this contest, which features contests related to chicken, ribs, and brisket. There is even a kosher portion of the contest for folks of the Jewish faith. Each attendee is entitled to a BBQ Beef sandwich with all the fixings, which is included in the price of admission, and lots more food available for those who bring a big appetite.
It is expected that over 400 teams will participate in the 2016 contest, which is an all-time record. The events popularity has only grown every year. It is foreseeable that at some point in the near future, there will be over 500 teams and half a million spectators for the three day event.
It is safe to say that something of this magnitude could only happen in Texas.
Houston Rodeo Events